Historic Main St. …and Oakdale Cemetery
Take a 90-minute tour of Historic Main Street to learn about Hendersonville's history and architecture and hear fascinating stories.  See the Look Homeward Angel grave marker, the subject of Thomas Wolfe's novel of the same name, and hear stories about former Hendersonville residents while strolling thru Oakdale Cemetery, Hendersonville's public cemetery. 
Walks on Main Street
10 a.m. Saturdays,
June 23, 30;  July 7, 14, 21;  Oct. 6, 13, 20;  Nov. 3, 10
Or … 5:30 p.m. Tuesdays, July 24, 31;  Oct. 23, 30;  Nov. 13, 20
 These 90-minute walks occur rain or shine.  Be charmed and informed by our history, architecture, and colorful stories about Hendersonville, NC.  Learn how the town got its name, who donated the land.  Bordellos, shoot-outs, the oldest block of buildings, where young people used to hang out, trolley lines … and much more. Meeting Place:  H'ville City Hall, "backdoor" lobby (Bldg. corner of 5th Ave. E. and King St.)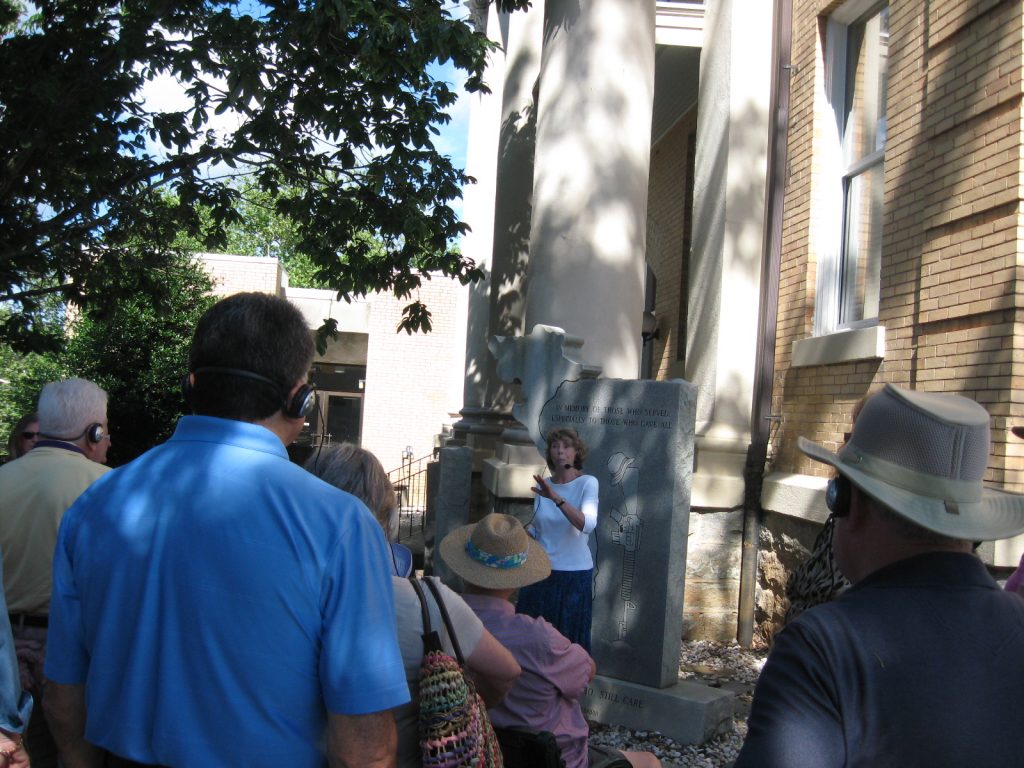 Walks In Oakdale Cemetery
2:15 p.m. Sundays,
July 15;  Aug. 5;  Oct. 14;  Nov. 4

Meet:  at the Cemetery, U.S. 64 W. at Valley St.

Join me along the pathways of Hendersonville's Historic Oakdale Cemetery where the famous "Look Homeward Angel" statue is located.  Grave markers can tell interesting stories and whisper secrets … so come along to discover Hendersonville's buried past.
 All tours: $10 per person
Ages 10 and over.  Children under 10 yrs.  free with paying adult.
Schedule private tours anytime by appt. for your group of 8 or more.
Info:  828-545-3179 or email me


* Groups of 8 or more may arrange for a private guided walking tour any time.  Your church group, school, tour group, family reunion, history club, out-of-town guests, etc.  Phone Mary Jo at 828-545-3179 to schedule a date and time, or email me from the website.